Having secured a PO box for deliveries, I wasted no time in starting to put together an order from my favorite vendor.
The main mission was to fill in my underwear collection. I realized recently that my current stash only includes two pairs of panties, one of which is part of a lingerie outfit. I thought it would be important to embrace my feminine side by wearing panties more often, possibly even when out in public, but I would need a whole lot more for that to be possible.
The first order of business was finding suitable panties, and then getting a matching bra. The ideal panties, in my mind, are silk or satin, and off-white. This is perhaps the first distinction I was able to make between boy underwear and girl underwear, and it seems quite true in its simplicity. Surprisingly, this wasn't the easiest thing to find at a lingerie store, given that they specialize on the edges of the spectrum: fantasy lingerie from the minds of horny men on one side, and comfortable everyday cottons on the other. However, I did pick out a winner: ivory satin bikini panties with lace accents, and a matching bra. For good measure, and given the discount when buying more than one, I also selected the same in black.
Then I fell into the usual trap: I spent an inordinate amount of time looking at swimwear. I wanted something cheap to fill out my collection, and wanted something with decorative hardware. I almost ordered a lovely bikini with rings at the sides, but I balked at the color and pattern, and anyway was unsure whether it really did come with the rings. I instead chose a double-string bikini, in the same metallic silver of my old favorite bikini that I wore hundreds of times back in the day.
The bra I chose was a push-up halter, pictured here in gold.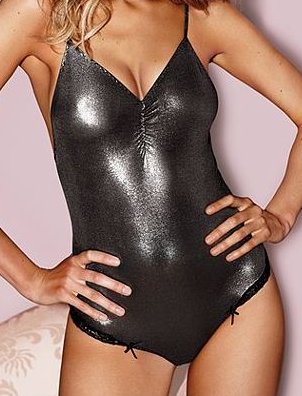 Then I threw in a super-cheap but sexy teddy just for fun. It was only 6.99, and the lace and bows at the legs were simply too pretty for me to pass up at that price.
Now I was ready to complete my order, but I wasn't quite convinced. The total was rather high, and I wondered whether I was really getting exactly what I wanted. I thought about ditching the teddy, but it was so cheap as to make no difference. Then I thought about the underwear. Sure, it would be nice to have more underwear, but I wasn't even totally sure if the kind I had chosen would be suitable. I realized that I was getting sucked in by the discount for buying more than one, and that it wasn't a very good deal after all. So on a whim, and with a devilish grin, I dropped the black panties and bra, and added a pair of super-cute shoes.
I've wanted some tall strappy sandals for a long time, but I've never had the courage to buy any. I've bought FMB's, but I've grown tired of them. At last, I will have appropriate footwear to feed my perversions.
I filled in my info, and clicked submit. I now have a bunch of lady clothes on their way to my secret postal box, and I can't wait to get my hands on all of it.
I'm particularly excited about the shoes.